The opportunity to increase a North American farmer's grain harvest operations by 20 to 30% has, in the last 4 years, become available to all who can identify, and quantify, their last significant harvest bottleneck…
By Brian Hedt*, Guest writer
I have a cotton grower friend called Otto** here in Australia who, in the last decade, has been at the forefront of a revolution in his industry.
Like grain, cotton is subject to significant quality downgrades if it's weather damaged. So when Otto first saw the new evolution in cotton pickers — ones that operated non-stop, picking, compressing, baling, wrapping, carrying and dumping at the end of the field — he knew he was seeing a revolution in cotton production efficiency.
In one fell swoop that truly logical advance made the old, and long established, practice of having a cotton boll buggy charging down a field, collecting uncompressed cotton bolls from a full, and often waiting picker basket unnecessary.
For those who are unfamiliar with the old cotton harvesting process it roughly worked this way: The boll buggy would return to the end of the field, discharge the uncompressed cotton into a 40' x 10' x 8′ mobile, bottomless, "module" builder that created a lightly compressed "stack" the same length and width as a semi trailer. It required 3 workers to fill and hydraulically compress the cotton, then move the module builder away from the newly created stack and spread and secure a fitted tarp in order to prevent weather damage. These stacks were subsequently loaded onto a tilting "live floor" semi trailer and taken to the cotton gin for processing.
At that time Otto owned and ran an irrigated cotton production enterprise (4000 acres) where yields averaged around 4 bales/acre. He had 8 modern, but standard issue, cotton pickers, 8 boll buggies and 16 module builders. His harvest crew was a minimum of 40 people (5 per picker). That didn't include cooks and all the attendant issues surrounding the requirements to accommodate staff. Note: His farm was 50 miles from the nearest town and his crew were seasonal workers who came with all the usual delightful human eccentricities.
Today, Otto owns 8 of those revolutionary new cotton pickers and completes his entire harvest with just 12 skilled staff in about 80% of the time traditionally required. Oh yes, I forgot to mention he now harvests 18,000 irrigated acres and yields are well over 4 bales/acre!
Who in the corn, wheat, rice and barley industries wouldn't kill for that kind of efficiency revolution on their own farm today?
Increase a North American farmer's grain harvest operations by 20 to 30%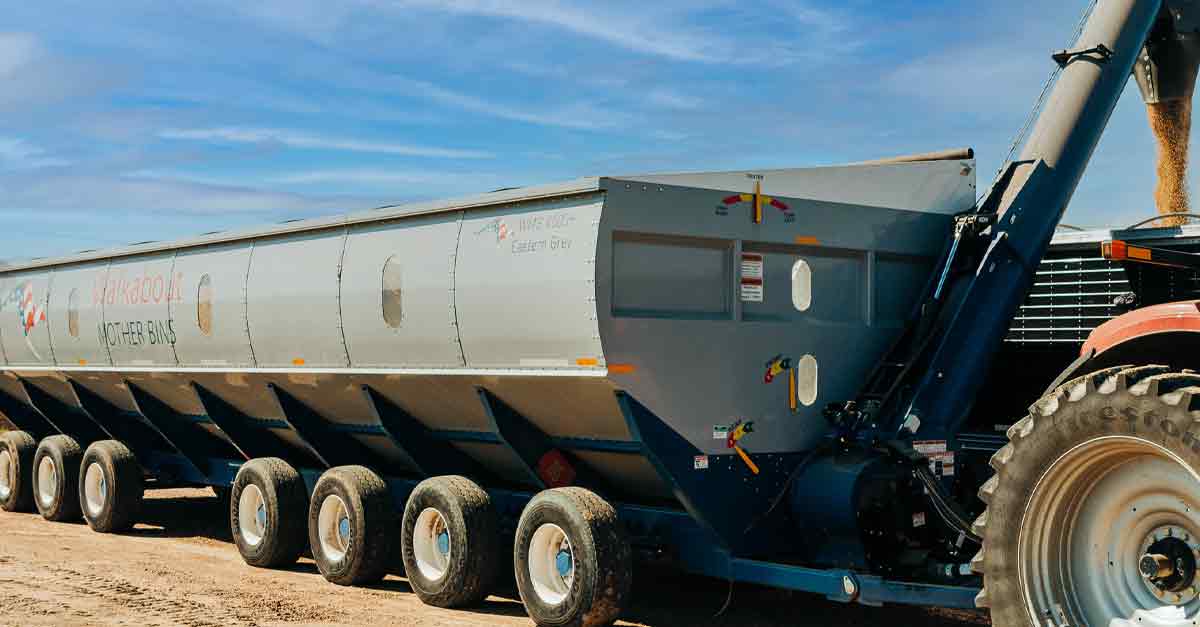 Fortunately, no killing is required. The opportunity to increase a North American farmer's grain harvest operations by 20 to 30% has, in the last 4 years, become available to all who can identify, and quantify, their last significant harvest bottleneck.
Unlike Otto's efficiency revolution which cost millions (cotton harvesters can be double the price of grain harvesters) and required a complete rejig of his entire harvest operation, a grain farmer's biggest hurdle is acknowledging the bottleneck from field to elevator. After that light bulb moment, the rest is easy.
How easy? One phone call to Crystal Kopecky will get you a cost price/efficiency gain ratio that clearly shows how slotting a Mother Bin into your operation is the key to a faster, more efficient harvest — just as it has done for many North American growers.
And, unlike Otto, you won't be purchasing a totally unproven technology, designed and built in a foreign country. Walkabout Mother Bins is an American company. All bins are manufactured in North Dakota and have a hugely successful USA track record. (and a 30-40 year history of successful integration into the Australian harvest system).
So make that one phone call to Crystal and she will walk you through the revolution that a Walkabout Mother Bin will bring to your harvest operation. It is that easy!
Have a great harvest.
*About the author: David Hedt, the sole owner of Walkabout Mother Bins is my eldest son. I have no financial interest in his company. I am retired and have time to, hopefully, add some insights into why I think the world is the way it is, particularly in relation to grain production. This is my second effort at quantifying why we do things the way we do in Australia. The first was a piece called "Dodd's First Principal for Profitable Grain Production."
**Otto is not my cotton growing friend's real name but everything else in his story is factual.