Mother Bin Customer Testimonials
Read these mother bin customer testimonials and learn how farmers are using mother bins to improve their harvest efficiency.
Whether combining corn, soybeans, wheat, rice or barley, a Walkabout Mother Bin is harvesting equipment that improves efficiency for any size farming operation. After reading these mother bin customer testimonials, you can find the specifications, features and benefits of a mother bin HERE.
Bubba Leita's family has been farming in Victoria, Texas for over 75 years. Hear about their corn production and how their newly acquired Mother Bin performed during harvest 2022.
So where the Mother Bin came into play at was when the semis were full and  gone  we had at least an hour or two hour wait before more trucks came back; we could fill the Mother Bin. Before the Mother Bin we'd have both combines full, all three grain carts full and have to stop and wait for at least an hour, an hour and a half. With  the  Mother Bin on  the edge of the field the grain carts would come up, dump and then go right back out and unload that combine again.
Today's PTI agronomy tip of the day is: it's all about efficiency and logistics. We just don't want the combine sitting in the field. We know we've got precious time when we have good weather here at harvest time; we want to keep the combine rolling and this Walkabout Mother Bin has allowed us to have that extra storage so we just don't get slowed down in the field.
It was like adding another combine. It really picked up the slack because of the extra surge capacity. We were able to finish fields in the evening after the semis were done loading. If the semis had issues or breakdowns we still didn't have to shut down the combine because we had extra capacity for storage.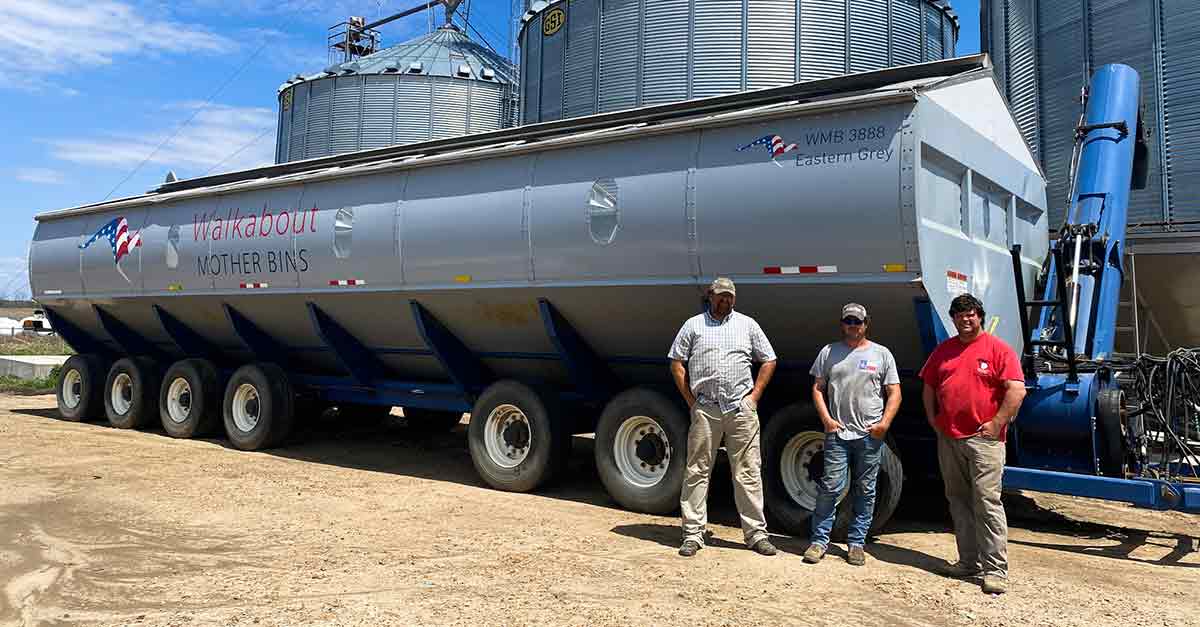 The Mother Bin allowed us to reduce the number of trucks we own and combine more grain faster  because the combines never stop. We farm with less equipment and finish earlier than before and it's because of the Mother Bin. We run like clockwork.
Crystal, I have to tell you about the blending feature of the bin! This year I had a field of sunflowers get away from me. When I opened up the field, they tested at 14% moisture and the elevator wouldn't take them until they were down to 10. Luckily, I had a bin of flowers at home that were 8%. It took some work, but I loaded those 8% flowers into the bin and used the blending feature with the flow gates and blended the whole field down to the 10% moisture. The elevator just couldn't believe I was able to do that.
Yields were averaging 60 bu. Some loads were a bit on the dry side, and a few were too wet, so the owner used the flow gates (split front and rear flow gates are standard on the WMB) to blend the wet ones. He parked two trucks and a grain cart, while keeping three combines and one grain cart running and three trucks with a 70-minute turnaround time.
It's great, it did everything you said it would do. Our elevator receives an average of seventy loads a day and forty of them are ours. The elevator asked how we are doing it and I said it's because of the Mother Bin.
My dad is getting older and soon he will not be able to help me harvest. He was still alongside me for harvest this year, but with the added in-field storage it is going to allow me to harvest during peak hours and I will haul the grain home in the morning or night. The Mother Bin is just what I need to avoid hiring new labor.