New Dealer, Meixel Truck Sales Inc.
Faulkton, SD – Walkabout Mother Bins (WMB) has finalized an agreement with Meixel Truck Sales Inc., in Minnesota, making them the newest Walkabout Mother Bin dealer in the Northwest United States. Meixel's stated mission is to go above and beyond what is expected and to ensure that every customers expectations are surpassed.
"A company that strives to sell quality products that meets customers expectations is something we look for in a dealership, just as Meixel Truck Sales has been doing for so many years," Crystal Kopecky, Director of Sales for Walkabout Mother Bins, said. "Walkabout Mother Bins is excited to join forces with Meixel by adding the Mother Bin to their vast portfolio of trucks, trailers and ag equipment."
Meixel sells quality used trucks and trailers, as well as agriculture equipment and parts, from their facility in Starbuck, Minnesota and on www.meixeltrucksales.com.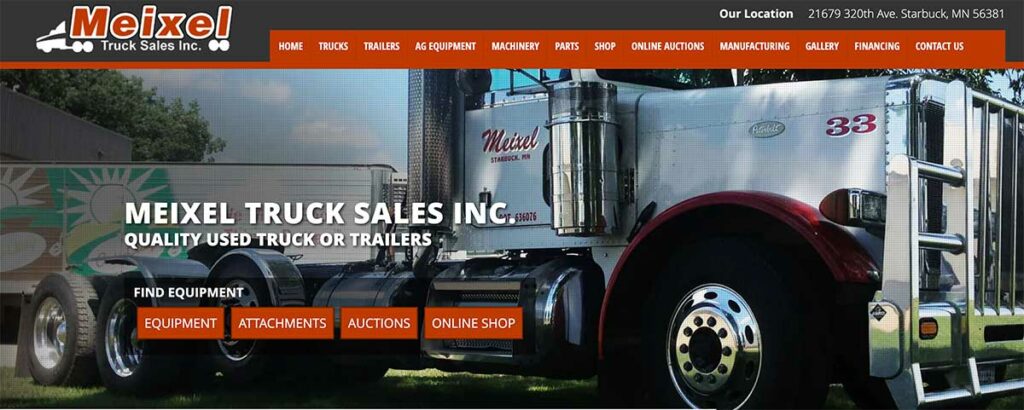 A WMB is an innovative and important piece of farm equipment that dramatically increases harvest productivity for North American grain farmers. Its design is specifically intended to eliminate any bottlenecks that may occur during the harvest season, allowing for a smooth and stress-free process that maximizes profit margins. Dubbed as the missing link between grain carts and trucks, the WMB holds 4,000 bushels, has a 22-inch unloading auger and can load a semi in about two minutes. Learn more.
"The Mother Bin guarantees the ability to continue, or extend, harvesting time if elevators close or the distance from farm or elevator is too far for trucks to keep grain away from combines," explains Kopecky. "If problems would arise because of slow unloading at the elevator, elevators closing, incoming inclement weather, or if on-farm storage or breakdowns occurred anywhere in the transport, delivery or storage chains, the WMB insures the harvest keeps moving."
Headquartered in Faulkton, South Dakota, Walkabout Mother Bins focuses on quality constructed bins; providing an efficient, easy, and affordable harvest system that limits overhead and downtime for farmers. Walkabout Mother Bins is proud to be ushering in a new era of harvest efficiency in the North American grain belt.