Walkabout Mother Bins has delivered their first mobile field bin into Canada, sold through Novlan Bros Sales, Paradise Hill, Sask.
"We look forward to the future of the Walkabout Mother Bin in the Canadian market," said Crystal Kopecky, Director of North American Sales for Walkabout Mother Bins "and working towards peak harvest efficiency for the growers of Canada."
The Walkabout Mother Bin is a 4000 bushel mobile field bin (movable while in field, while partially loaded) that has quickly become an essential piece of harvesting equipment.
The bin was sold through Novlan Bros, a full service equipment dealer in Canada that carries multiple lines and prides themselves on excellent customer service. They have been committed to serving the agricultural needs of Alberta, Saskatchewan, and beyond since 1929.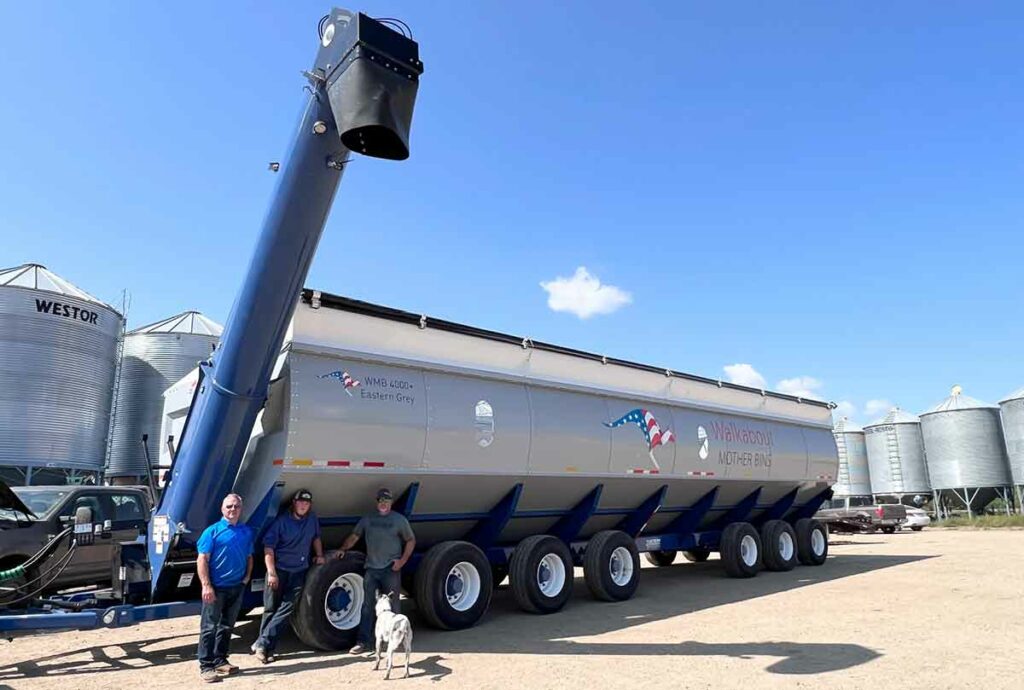 "We're excited to offer this new product to our customers said Neil McNab, Novlan Bros Sales Representative. "Our customer is seeing a lot of value and increased efficiency in his harvest with this new, large Walkabout bin. He is able to park it at the end of the field, and have the grain carts and combines unload directly into the bin. It has added so much convenience and efficiency to his process."
Novlan Bros has three locations in Canada – Paradise Hill, Lloydminster and North Battleford.
The Walkabout Mother Bin has proven time and again to dramatically increase productivity and profit for growers. Dubbed as the missing link between grain carts and trucks, the mobile field bin sits on the end of the field, grain carts dump into it and trucks load out of it –– allowing the grain cart to fully offload into the Mother Bin, always keeping the combine running. The seven-axle WMB holds 4,000 bushels, has a 22-inch Elmer's unload auger and an unload rate of up to 900-BU min. An AGRI-COVER® Roll Tarp and camera system are standard on the WMB, which also has the ability to blend grain.
"The Mother Bin guarantees the ability to continue, or extend, harvesting time if elevators close or the distance from farm or elevator is too far for trucks to keep grain away from combines," explains Hedt. "A Mother Bin is mobile grain storage that grain carts empty into, allowing the grain carts to return to the field. The Mother Bin then waits for trucks that load directly out of the Mother Bin upon their return. If problems should arise because of slow unloading at the elevator, elevators closing, incoming inclement weather, or if on-farm storage or breakdowns occur anywhere in the transport, delivery or storage chains, the WMB insures the harvest keeps moving."
Headquartered in Faulkton, South Dakota, Walkabout Mother Bins focuses on quality constructed bins; providing an efficient, easy, and affordable harvest system that limits overhead and downtime for farmers. Walkabout Mother Bins is ushering in a new era of harvest efficiency in North America.