For US farmers, 2020 has been a year of Mother Bin success stories. It's safe to say that for all the new mother bin owners across the country, the money is in the bin.
A year of mother bin success stories
This year I made it a priority to contact new mother bin owners to ask how the bin impacted their harvest. While this post is longer than normal, every story below is worth reading. One of them could change the way you farm.
One of my favorite things about working at Walkabout Mother Bins is hearing the "rest of the story." From the point of first contact – when a grower calls frustrated because the same bad thing that happened last harvest is happening again – I go through the selling process to see how a mother bin could fit their operation. I always ask the grower what their pain points are, and it's not surprising that farmers everywhere have similar challenges.
"The trucks are not back from the elevator and the combines and grain carts are all full."
"We lost a few guys this year and can't find good help."
"The yields are exceptional this year and we just can't keep up."
Or, my favorite, "I bought this big new combine and all it did was create a bigger more expensive problem. I am always full; the grain cart hasn't dumped yet, and here I sit with nothing to do but wait."
Once growers realize how inefficient it is to always be sitting and waiting for trucks, they realize the mother bin is the next natural step for their operation.
In 2020 we sold bins in states that weren't even on our radar as a fit for a mother bin. We're quick to realize farming challenges are universal, wherever you are in the world.
Mother Bin Success Stories: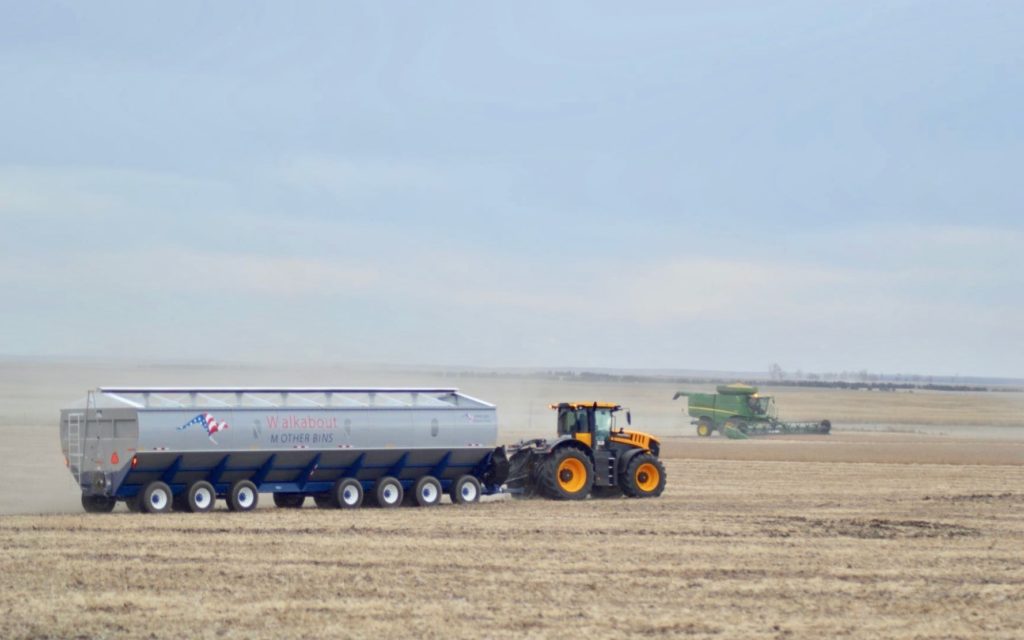 Soybean harvest, Flandreau, South Dakota:
Yields were averaging 60 bu. Some loads were a bit on the dry side, and a few were too wet, so the owner used the flow gates (split front and rear flow gates are standard on the WMB) to blend the wet ones. He parked two trucks and a grain cart, while keeping three combines and one grain cart running and three trucks with a 70-minute turnaround time.
Corn Demo, Orient, SD, Derek Edgar:
"We had a great opportunity today to try out the Walkabout Mother Bin. We started the day in a corn field that was 28-mile round trip for the trucks. The trucks were in and out of the field in 15 minutes. We found time savings that we didn't know was there. There are many times in a day the cart is dumping a combine while the truck waits at the end of the field wanting that load to finish the truck or you are trying to get the trucks gone and now the combine is sitting full (Always opposite side of the field.) The Mother Bin allows you to dump the grain quickly and leave while the truck driver fills himself.
Combine ran all day without having to sit and wait. The trucks were in and out and didn't have a feeling of having to push things to get back. There's a lot of wear running trucks. This allowed us to drop a truck. Big thanks to Dave and his crew. Says a lot about a company willing to let someone use such a nice piece of equipment that had never had a drop of grain in it."
Rice harvest, New Madrid, MO:
"It's great, it did everything you said it would do. Our elevator receives an average of seventy loads a day and forty of them are ours. The elevator asked how we are doing it and I said it's because of the Mother Bin."
Wheat farmer, Dickinson, ND:
"My dad is getting older and soon he will not be able to help me harvest. He was still alongside me for harvest this year, but with the added in-field storage it is going to allow me to harvest during peak hours and I will haul the grain home in the morning or night. The Mother Bin is just what I need to avoid hiring new labor."
Jerry Weinheimer, Onida, SD:
"Crystal, I have to tell you about the blending feature of the bin! This year I had a field of sunflowers get away from me. When I opened up the field, they tested at 14% moisture and the elevator wouldn't take them until they were down to 10. Luckily, I had a bin of flowers at home that were 8%. It took some work, but I loaded those 8% flowers into the bin and used the blending feature with the flow gates and blended the whole field down to the 10% moisture. The elevator just couldn't believe I was able to do that."
One for the record books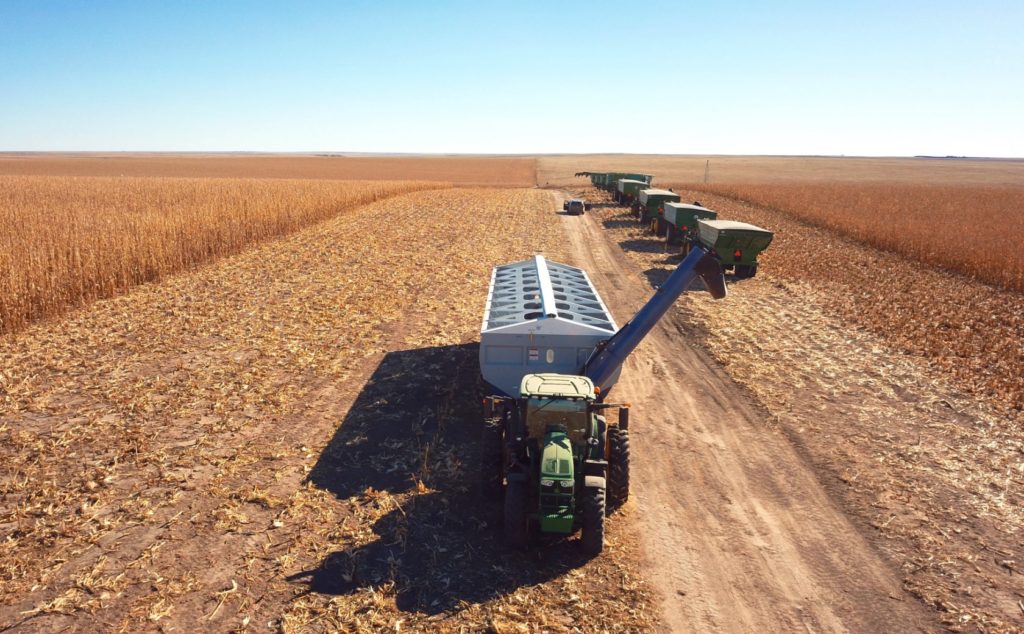 This year has been one for the record books. At the end of the day, it is our goal to improve the quality of your grain handling efficiency. It's safe to say that for the new mother bin owners, the money is in the bin.
Best wishes for a happy and healthy New Year, and thanks for tagging along this year. Stick around for 2021, as a new Mother Bin rolls out each week.
Crystal Kopecky, Director of Sales