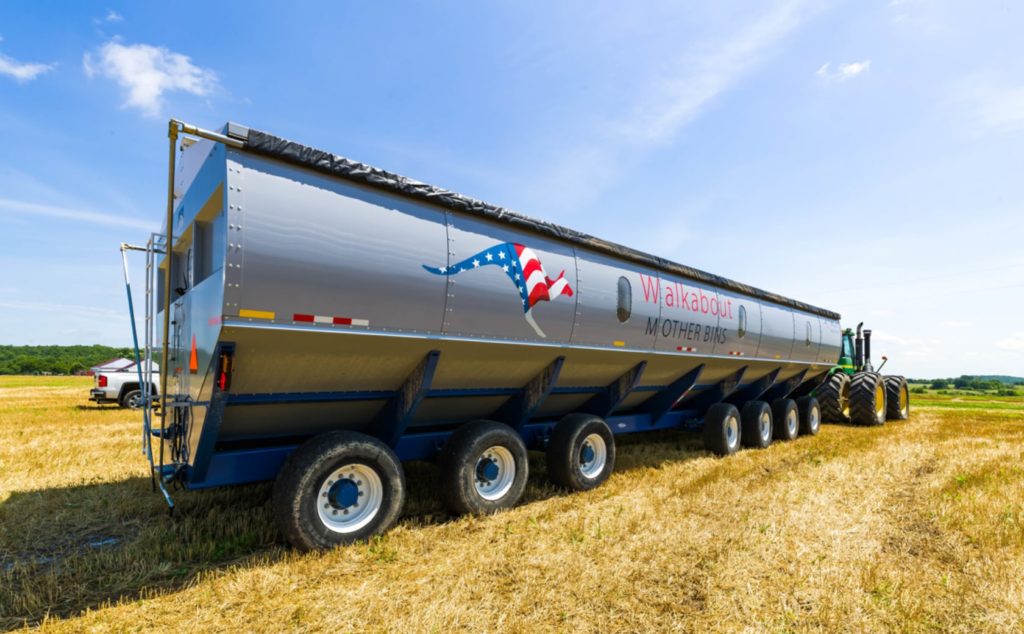 Article by Jager Robinson, Tri-State Neighbor Reporter / agupdate.com printed May 15, 2020
Below is an article printed on agupdate.com about how Mother bins could be huge for U.S. agriculture – a mobile grain bin that can keep harvest running without grain carts waiting for trucks, or vice versa. Read below!
The show must continue for agriculture regardless of a global pandemic, and for Dave Hedt, owner and founder of Walkabout Mother Bins the show looks brighter in 2020.
Hedt, an Australian native and Faulkton, South Dakota resident, recently signed a contract to construct his mother bins with Mackow Industries at the company's plant in North Dakota. After nearly a half-decade of work, Walkabout Mother Bins has a solid pipeline for constructing the product for U.S. consumers.
The story of Walkabout Mother Bins is one that a lot of Midwestern producers can relate to. After realizing there was a need in the market for a more efficient grain harvest storage system, Hedt began work on a prototype to do the one thing many small businesses in agriculture look to do – make a farmer's life easier.
A mother bin is a tool that has been used in many places throughout the world, but hasn't taken off with the same vigor in the U.S. It's essentially a mobile grain bin that can store grain in the field and keep harvest running without grain carts waiting for trucks, or trucks waiting for the grain cart to circle back.
The need for such capacity increased over the last few decades. Laws and regulations for hauling grain have changed, and the need to find seasonal workers has changed the way farmers do business.
"The class and capacity of combines has gotten infinitely bigger, and the laws for hauling grain have not changed," Hedt said. "With hybrid grains and higher yields, the only way to compensate for that at the moment is to get more trucks and more drivers, which just aren't available."
While a 4,000-bushel mother bin may seem like overkill, Hedt said, it's the smaller producers who have just a few extra hands to help with harvest who can benefit the most.
Introducing mother bins to the U.S. after having them for decades in Australia has been a challenge, Hedt said, but people are slowly coming around to the idea. He said that the challenges U.S. farmers are facing with labor are the same ones Australia went through in the 1990s. When people said there is no reason to change how farmers should haul grain, Hedt heard a familiar tone.
"I hear that a lot," he said. "People said the same thing when grain carts first came out but now people can't do without it. In Australia, it was very similar."
Hedt grew up in Victora, Australia, about four hours northwest of Melbourne. His family owns a dryline farm, and Hedt has been farming most of his adult life. After meeting a Faulkton resident in a pub in 1999, Hedt was invited to the States.
"I came in 2003 and just made really good friends," he said. "I just kept coming back in the summertime."
Hedt has jumped around the world more than most, having visited five continents and 23 countries. But South Dakota felt like home. He settled in Faulkton in the late 2000s, and he was married this past November.
In 2015, while home in Australia with his father helping with harvest, Hedt said he wondered why the U.S. didn't have mother bins. After a bit of convincing from his father, he came back to the U.S. the next year to begin work on Walkabout Mother Bins.
Now, with a new manufacturing contract settled, Hedt said he can begin expanding the reach of mother bins faster than before. He plans to have demonstrations this summer where farmers can see bins in action.
With the 4,000 bushel bin in service right now, Hedt has plans for an even larger mother bin on the horizon. It's about helping farmers be more efficient.
If he can get 20-30 extra acres harvested per day for farmers with his bin, Hedt said it's a success. He likes to think of it as eliminating the wait for trucks to return to the field. If you lose an hour a day waiting, you'll end up losing a full day of work during the most important time of the year, Hedt said.
Learn more about mother bins at www.motherbin.com or call head of sales Crystal Kopecky at 605-530-4346.