WDAYRADIO News Talk Ag Director Bridgette Readel recently did an interview with Crystal Kopecky, Director of North American sales about the Walkabout Mother Bin – grain handling equipment for today's harvest. The interview took place at Hefty Seed Company's Ag PhD Field Day. Bridgette and Crystal talked about the impact Mother Bins have made on harvest PLUS they take viewers on a tour inside the Mother Bin!
The interview about the Mother Bin originally aired Thursday, July 28, 2022 and we are re-posting with permission from wdayradionow.com.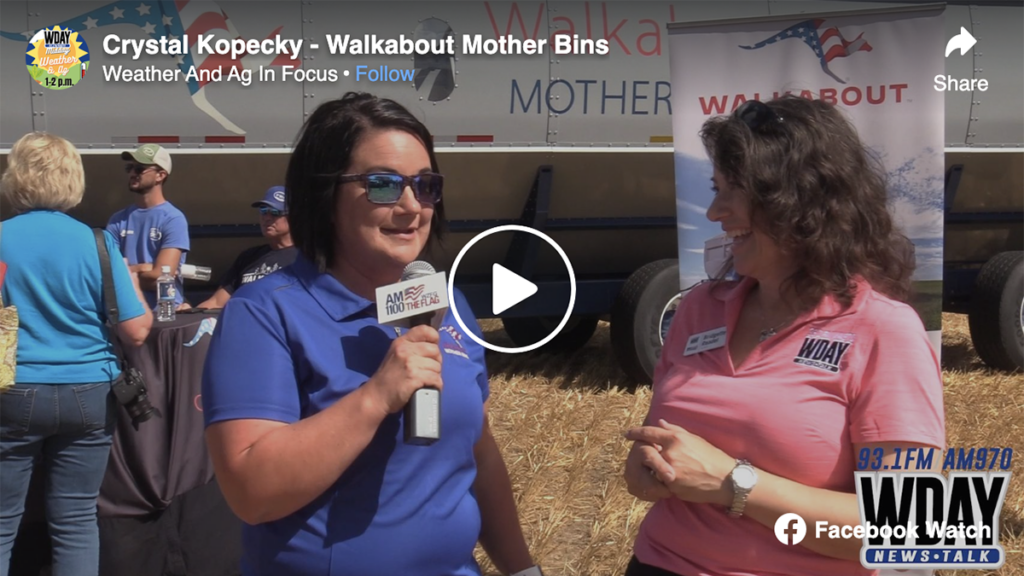 Click the image about, or HERE, to watch the WDAYRADIO interview and see the tour inside the Mother Bin!
The Walkabout Mother Bin has quickly become grain handling equipment essential for harvest in North America. It is a proven concept that runs harvest at peak efficiency. Time is money. And nobody makes money when the combine is stopped, waiting for the grain cart to return.
How it works: the Mother Bin sits on the end of the field, grain carts dump into it and trucks load out of it – allowing the grain cart to fully offload into the Mother Bin, always keeping the combine running.