In this episode of Inside PTI Harvest Edition, Jason Webster, Commercial Agronomist with PTI Farms, gives a quick run down of the Walkabout Mother Bin "grain cart."
The team at PTI harvested corn using the Mother Bin, or, as they call it, their very large grain cart. They have been using the Mother Bin for two years at the PTI Farm. They don't have grain storage at the farm yet, so the 4000 bushels of temporary storage that the Mother Bin provides has really worked well for them. See more Mother Bin specifications.
They use it to keep the combines moving in the field, keep them efficient, that way they aren't stopped, unable to harvest grain. How? It's temporary storage until the trucks can come get the grain. And, when they get done with a field, they put the remaining grain in the Mother Bin and let the crew get it away and done while the combines and grain carts move on to the next field to get it opened up.
Inside PTI's agronomy tip of the day: Efficiency is everything in farming.
Watch this episode of InsidePTI and check out how Jason and the PTI farm crew use the Mother Bin for maximum efficiency and hear from him the many benefits he sees in the Mother Bin.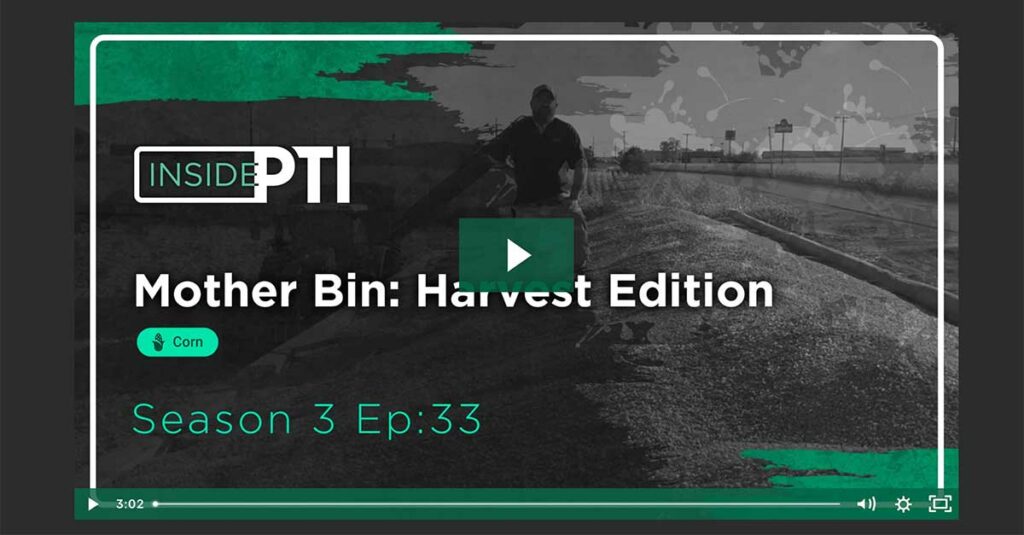 WATCH EPISODE 33 HERE
About Precision Planting
Precision Planting, LLC is the leading provider of practical and effective precision ag technologies to help make farmers smarter every season. Founded in Central Illinois, Precision Planting focuses on developing smart products that improve planting, liquid application and harvest operations on farms across the world. The company is also well-known for its unique and proven approach to addressing the current agronomic issues facing farmers and providing practical educational resources for improvement.
In 2018, Precision Planting opened the Precision Technology Institute (PTI) in Pontiac, Illinois, a 200-acre agronomic research site, as well as a location where farmers can experience Precision Planting technologies and products in a real-farm environment. PTI is an educational site that brings agronomy, new technology, and equipment to the forefront of the industry. Research at PTI focuses on creating best-use agronomic practices for precision ag technologies.