Walkabout Mother Bins is set to exhibit at Dakotafest, Booth #527, August 17-19 in Mitchell, SD. We invite you to come see a bin and bring all your questions.
Dakotafest is designed to help farmers grow their business. It boasts nearly 500 exhibits focused on agriculture and includes educational opportunities, networking opportunities with top agribusinesses and live demonstrations of various ag products.
"We are all looking forward to kicking off the fall show season with the FEI crew at Dakota Fest," said Crystal Kopecky, Director of Sales for Walkabout Mother Bins. "We will have a new and improved bin at this year's show. It features the new 4-way spout on the 22″ Elmer's Mfg. unload auger and 4000+ bushel capacity."
Where to find Walkabout Mother Bins exhibit booth at Dakotafest
The Mother Bin will be on display in booth #527. Dakotafest location: 2300 E Spruce St., Mitchell, SD 57301. See Map.
Walkabout Mother Bins are proudly represented in Nebraska, Kansas, and South Dakota by FEI, Inc. and their local reps will be on hand to answer questions about the Bin, as well as representatives from Walkabout Mother Bins.
What is a Walkaboout Mother Bin?
A Walkabout Mother Bin is an essential piece of harvest equipment that offers a large, portable, grain storage solution (4,000-bu capacity) for any size operation. The Mother Bin features a newly designed roll tarp/top to accommodate more grain, a 22″ Elmer's unload auger, split front and rear flow gates for blending grain, self-steering front and force steering rear axles and more. The Mother Bin can load a semi in about two minutes and has an unload rate of up to 900-BU min. In short, a Mother Bin reduces trucks, labor and grain cart cycle times. It allows operators to keep the combine running continuously, eliminating the need to stop and unload.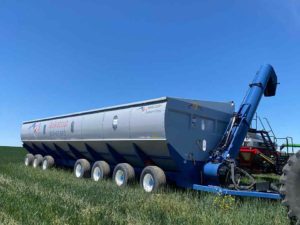 Walkabout Mother Bins is located in Faulkton, South Dakota. Our mission is to provide affordable, quality Mother Bins to the United States farming community. Walkabout Mother Bins is proud of our outstanding customer service and customer satisfaction. All Walkabout Mother Bins are made in the USA.
Contact: Crystal Kopecky, Director of Sales, sales@usakangaroo.com, 605,530,4346