Shoppa's-John Deere has partnered with Walkabout Mother Bins to provide a new solution for grain storage and handling for Gulf Coast farmers.
Walkabout Mother Bins Welcomes New Dealer, Shoppa's Farm Supply
Faulkton, SD – Walkabout Mother Bins has finalized a dealer agreement with Shoppa's Farm Supply, a farm equipment dealership that has been serving the upper gulf coast since 1982. Crystal Kopecky, Director of North American Sales for Walkabout Mother Bins, said the agreement creates an ideal match as Shoppa's serves many harvest operations across south Texas and Louisiana, and by stocking the Walkabout Mother Bin (WMB) they will guarantee the ability to serve existing and future Walkabout Mother Bin customers in the upper Gulf Coast region of the United States.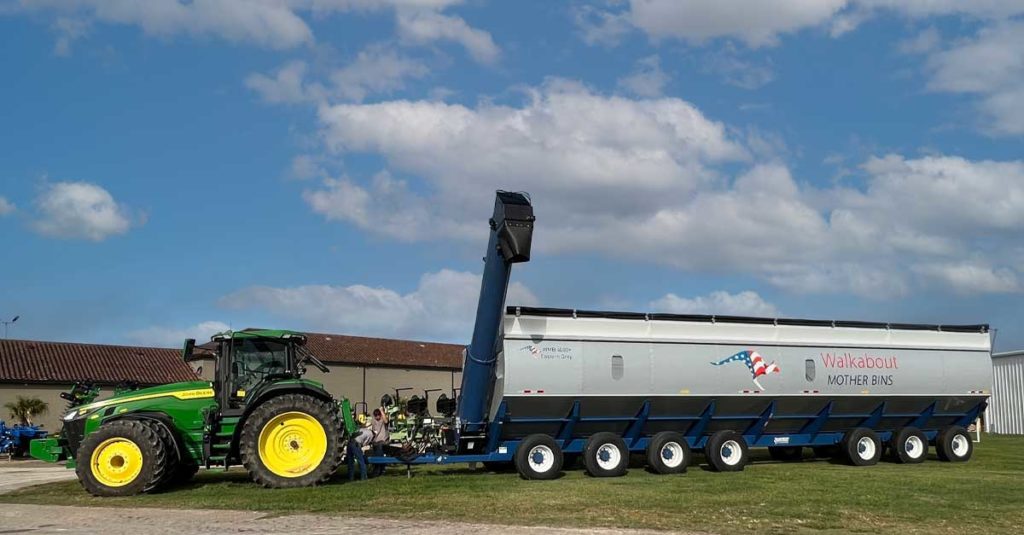 Shoppa's Farm Supply is a family business built on the cornerstone of honesty, integrity and dedication to their customers. They have been a John Deere dealership for nearly 40 years, and have an excellent reputation for outstanding customer service. WMB is proud to be working with Shoppa's and continuing their commitment to providing quality products that best suit their customer's goals.
"Shoppa's-John Deere has a longstanding commitment to take care of our customers," said Roland Orsak, Director of Marketing and Advertising, Shoppa's John Deere. "We are excited to partner with Walkabout Mother Bins to provide a new solution for grain storage and handling for our Gulf Coast farmers. As one of the largest agriculture dealers in the state of Texas, we pride ourselves in finding innovative products to bring to our customers. WMB will be a great addition to the Shoppa's-John Deere lineup."
Shoppa's Farm Supply has locations in Bay City, Beaumont, East Bernard, El Campo, Liberty, Victoria, Shiner and Giddings, Texas.
"We are excited to welcome Shoppa's to the Walkabout Mother Bins family," said Dave Hedt, CEO of Walkabout Mother Bins. "We are looking forward to a long relationship, and working with Shoppa's to make farmer's lives in the Texas better."
A Walkabout Mother Bin is an essential piece of grain handling equipment that dramatically increases harvest productivity and profit. Dubbed as the missing link between grain carts and trucks, the seven-axle WMB holds 4,000 bushels, has a 22-inch Elmer's unload auger and an unload rate of up to 900-BU min. An AGRI-COVER® Roll Tarp and camera system are standard on the WMB, which also has the ability to blend grain.
"The Mother Bin guarantees the ability to continue, or extend, harvesting time if elevators close or the distance from farm or elevator is too far for trucks to keep grain away from combines," explains Hedt. "A Mother Bin is portable grain storage that grain carts empty into, allowing the grain carts to return to the field. The Mother Bin then waits for trucks that load directly out of the Mother Bin upon their return. If problems should arise because of slow unloading at the elevator, elevators closing, incoming inclement weather, or if on-farm storage or breakdowns occur anywhere in the transport, delivery or storage chains, the WMB insures the harvest keeps moving."
Headquartered in Faulkton, South Dakota, Walkabout Mother Bins focuses on quality constructed bins; providing an efficient, easy, and affordable harvest system that limits overhead and downtime for farmers. Walkabout Mother Bins is ushering in a new era of harvest efficiency in North America.