Walkabout Mother Bins recently finalized an agreement with Astro Metal Craft in Hanover, Minnesota, to manufacture mother bins. Dave Hedt, owner and president of Walkabout Mother Bins, said the agreement will guarantee his company's ability to provide quality constructed Walkabout Mother Bins (WMB) to customers in the United States, Canada and potentially overseas, as the demand for mother bins grows. A WMB is a temporary, in-field grain storage system designed to keep harvest running at peak efficiency.
"I am ecstatic to have found an additional manufacturer with experienced fabricators and a reputation for quality and value," said Hedt. "With the growing demand for Mother Bins across North America, we can make sure we satisfy demand with no delays for customers."
Astro Metal Craft was founded in 1987 as a metal fabricator of custom industrial equipment, primarily for the food processing industry. Today they are an original equipment manufacturer as well as a manufacturer of industrial equipment and architectural metals. Astro Metal Craft's niche is welding and perforating and they specialize in stainless steel, aluminum, and weathering steel.
"Teaming up with Walkabout Mother Bins is an exciting new project at Astro Metal Craft. We get to showcase a lot of our capabilities on this project and it is especially rewarding knowing what the end product is being used for," said Tanner Motzko, Production Manager at Astro Metal Craft. "We look forward to what the future holds with the Mother Bin."
Walkabout Mother Bins is a USA owned company, and the Walkabout Mother Bin is specially adapted to North American conditions and far superior to the ones used originally in Australia. A WMB dramatically increases harvest productivity for owner/operators. The 4000 bushel mother bin sits at the end of the grain field, the grain cart dumps into it and the semi trucks load out of it — allowing the grain cart to fully offload into the mother bin, always keeping the combine running. Dubbed as the missing link between grain carts and trucks, a WMB has a 22-inch Elmer's unload auger and can load a semi truck in about two minutes.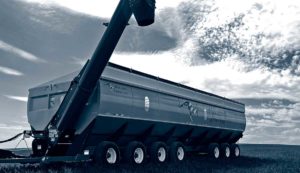 "The mother bin guarantees the ability to continue, or extend, harvesting time if elevators close or the distance from farm or elevator is too far for trucks to keep grain away from combines," explains Hedt. "If problems would arise because of slow unloading at the elevator, elevators closing, incoming inclement weather, or if on-farm storage or breakdowns occurred anywhere in the transport, delivery or storage chains, the WMB insures the harvest keeps moving."
Headquartered in Faulkton, South Dakota, Walkabout Mother Bins focuses on quality constructed bins; providing an efficient, easy, and affordable harvest system that limits overhead and downtime for farmers. Walkabout Mother Bins is proudly ushering in a new era of harvest efficiency in the North American grain belt.