Wondering where to find a Walkabout Mother Bin for sale? Walkabout Mother Bin dealers are located in the northern states and the midwest states of North America. There is currently a Mother Bin for sale online from Tractor House, and of course anyone in the United States and Canada can buy directly from the Walkabout Mother Bin sales team.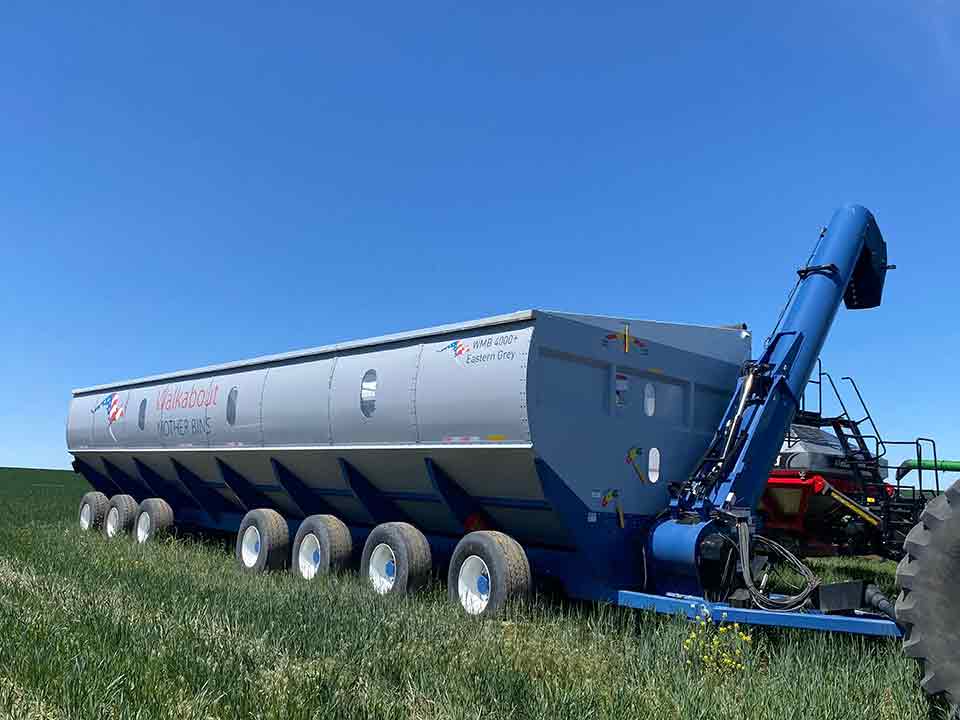 Mother Bin Dealers Near You
Lamb Chevrolet & Implement in Onida, South Dakota has been serving the Onida community for many years and offer a full line of Case IH products, Versatile Tractors, Kinze Planters and Grain Carts, Bourgault Air Seeders, Top Air Sprayers, Shelbourne Stripper Heads, Brandt Grain Vacs and the Walkabout Mother Bin.
FEI, Inc. provides fertilizer and chemical application and handling equipment and parts to the agriculture industry, and a full line of propane equipment, hearth products, and propane parts to the propane industry. Additionally, they provide sales and service of the Walkabout Mother Bin within their established network. FEI serves customers in 20 states and four Canadian provinces.
You can find a list of dealers who have mother bins for sale here.
Tractor House
Currently there is a Mother Bin for sale online at Tractor House, the largest online new and used farm equipment seller. Their inventory includes listings from every major manufacturer, including John Deere, Case IH, New Holland Agriculture, Kubota, Massey Ferguson, CLAAS, and Walkabout Mother Bins. Their inventory is continually updated so check often. The Walkabout Mother Bin is listed under Harvest Equipment.
Buy direct from Walkabout Mother Bins
Crystal Kopecky is the director of sales for all of North America. Contact Crystal: 605-530-4346; sales@usakangaroo.com
Crystal's vast knowledge of crops and farm equipment comes from a lifetime spent in the agriculture industry – from growing up in her father's commercial aerial applicator business to, after college, a brief stint with the USDA Farm Service Agency then twelve years in the crop insurance industry and six years in supplemental insurance sales marketing working to protect farmers and ranchers.
Lead time for purchasing a Mother Bin when buying direct
Start to finish 4 weeks. Mackow Industries provides a quality timely product and in peek production has been consistent with rolling a Mother Bin out the door every 14 days. Given the fact that harvest can be hard to predict, the best time to order to ensure a harvest delivery is December – February (contact a dealer near you or our sales team for early bird discounts). **We encourage all prospective buyers to take our needs assessment to build the bin of their choice with the options to suit their needs.