Walkabout Mother Bins joins AgPack® providing rebates & discounts to the farm and ranch community. Read the press release from Certified Ag Dealers below.
Farmers and ranchers can receive exclusive AgPack® benefits when purchasing their truck or SUV at a local Certified Agriculture Dealer
Westfield, NC (January 20, 2022) – Walkabout Mother Bins, Outback Wrap and PUTCO Truck Accessories are the latest agriculture serving companies to join the AgPack® national program, which has been providing rebates and discounts to the farm and ranch community for several years.
Walkabout Mother Bins joins the AgPack® program offering grain handling equipment for more efficient harvesting. The Walkabout bundle includes savings on not only their Mother Bin but their Outback Wrap hydraulic hose marker products as well. Specifically included in the AgPack® offering is a $1,500 rebate on a Mother Bin purchase plus a 20% rebate on accessories included for the bin including a scale, vibrator, display, low unload option or an auger sock. With a Mother Bin purchase, Walkabout is also offering a $500 store credit for Outback Wraps, their sister company's hydraulic hose identification products. Taking advantage of all the offerings from Walkabout would save a farmer or rancher $7,002.00.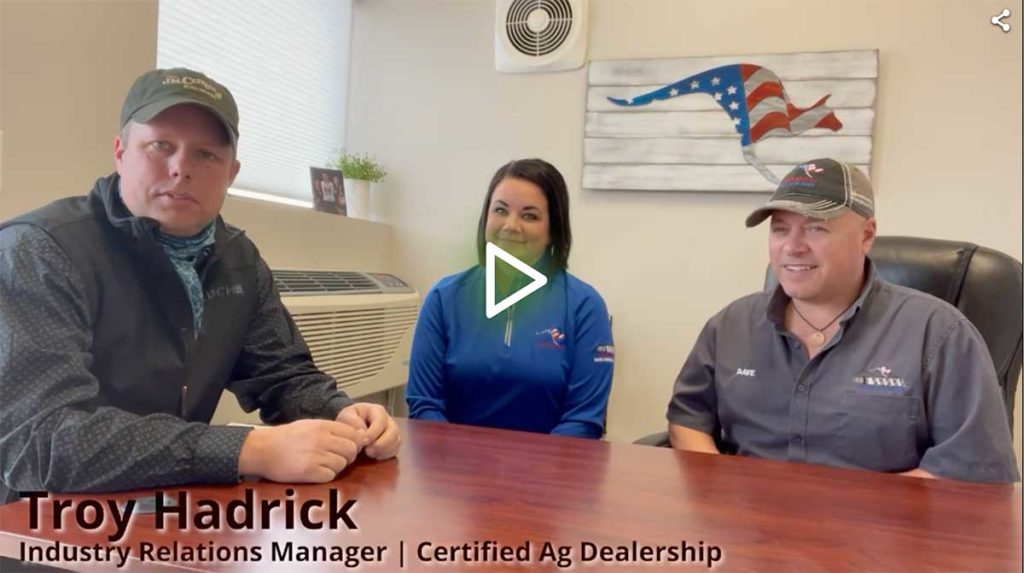 Separate from Mother Bins' offer, Outback Wrap is also joining AgPack® with a 20% discount offer per order that can be used 5 times during the one-year qualifying period. Outback Wrap hydraulic hose wraps are used for identification and organization when connecting hydraulic hoses to tractors. All Outback Wraps can also be used for other everyday hose or wire applications on the farm or ranch.
With a 141,000 sq. ft. manufacturing and R&D facility in the heart of America, PUTCO Inc. joins as the industry leader in work truck accessories. Some of their categories include HD headache racks, LED lighting and light bars, bed rails and storage, mud flaps, and stainless-steel accessories. PUTCO is adding an exclusive AgPack® offering of 10% off Manufacturer's Suggested Retail Pricing for their entire line-up of products plus free shipping on the purchase.
"We are excited to join the AgPack® family," says Dave Hedt, CEO of Walkabout Mother Bins, "We have a great offering for producers. When in operation, the Walkabout Mother Bin allows the combine to run continuously, eliminating the need to stop and unload which greatly improves harvesting efficiency." A Mother Bin can load a semi in approximately two minutes and has an unload rate of up to 900-BU min. A bin also qualifies for a USDA FSFL loan.
"For more than 48 years, PUTCO has been a recognized brand for top quality products," noted Brian Schmidt, Vice President of Sales and Marketing. "Our commitment to our clients revolves around 5 core principles: quality, innovation, inventory, warranty and profit for our clients. Those match up nicely with AgPack's other offerings."
"Farm and ranch customers who purchased a qualifying new or preowned truck or SUV last year from a Certified Agricultural Dealer could qualify for more than $20,000 in savings on products needed for their farm or ranch," said Pat Driscoll, President of the Certified Agriculture Dealer program. "We're pleased to add Mother Bins, Outback Wrap & PUTCO Truck Accessories to the other 12 AgPack® participants and believe by adding them to the AgPack® program, farmers and ranchers across America will now have an opportunity to experience truck accessories and farm equipment that can help add to their farm's efficiency and safety."
"In the last year, our whole team has been working double time making this program the best it can be for our agriculture community," noted Driscoll. "Now, every farmer's favorite local truck dealer, regardless of which brand they sell, can be a Certified Agriculture Dealer. Select pre-owned trucks and SUVs are also now AgPack® eligible. And it's not just about working with a specialty agriculture truck dealership when buying a new truck. For us, it's about making sure farmers and ranchers have a truck dealership they can trust for parts and service, when the truck isn't so new. A specialty store they can rely on to help keep things running like they do their tractor, fertilizer or fencing dealer." Farmers and ranchers can check out which models now qualify by going to the Certified Agriculture Dealer website at: www.certifiedagdealer.com
The available AgPack® savings will continue to grow as new participants are added to the program in July. Other current AgPack® participants include Michelin and BF Goodrich tires; AgroLiquid Crop Nutrition; Rhino Ag equipment; Dixie Chopper commercial mowers; AgriEdge farm management system; Reinke Irrigation; Gallagher Fencing & Weighing Equipment; Eby trailers and truck bodies; Viasat high-speed internet, Citgo's Mystic Lubricants, Tarter Farm & Ranch Equipment and Farm Market iD agricultural data. For the details on each of the offerings from the AgPack participants go to: www.certifiedagdealer.com
The new partner offers from Walkabout Mother Bin, Outback Wrap and PUTCO will be available on all purchases or leases of qualifying vehicles from a Certified Agriculture Dealership on trucks purchased after January 1, 2022.
About Walkabout Mother Bins
Walkabout Mother Bins is a USA Company, headquartered in Faulkton, South Dakota, making large, portable, in-field grain storage bins. A WMB provides US farmers with an efficient and affordable grain storage harvest system – a missing link between grain carts and trucks to keep the combine running longer. www.motherbin.com
About Outback Wrap
Outback Wrap hydraulic hose wraps are used for identification and organization when connecting hydraulic hoses to tractors. All Outback wraps can be used by farmers, ranchers, agriculturists, machine operators, and other everyday hose or wire applications. www.outbackwrap.com
About PUTCO Truck Accessories
Putco is a family-owned, 50-year-old leading manufacturer, importer, distributor, and designer of high-quality truck and automotive accessories. Located in Des Moines Iowa, they offer a large assortment of accessories for the aftermarket and O.E.M. markets making accessories that fit Ford, GM, Nissan, Mopar, and others. www.putco.com
About Certified Agriculture Dealer's AgPack®
A package of farm and ranch management tools available exclusively through Certified Agriculture Dealers that give the agriculture truck customer an immediate return on their vehicle investment by saving thousands of dollars in farm and ranch operating costs. These products are awarded to qualified vehicle buyers, at no additional cost to the customer by several leading brands within the agriculture industry. In order to qualify for CAD's AgPack®, the truck buyer simply needs to prove ownership interest in a farm or ranch.AgPack® is stackable on top of all other OEM, Fleet or VIP offers available to qualifying vehicle purchaser, and is awarded per vehicle, not per customer.