The Nebraska Ag Expo is the second largest indoor U.S. farm show. It is taking place February 23-25 in Lincoln, Nebraska. According to a news release from the show, the 14th annual Nebraska Ag Expo will be the largest indoor ag show to be held in the Midwest since spring 2020.
Walkabout Mother Bins is excited to showcase the 4,000-bu. Mother Bin at the Nebraska Ag Expo.
View Walkabout Mother Bins Nebraska Ag Expo fliers
"I was thrilled to be back at the show in Iowa and see all the growers again; but more importantly, excited for everyone to see what the fuss about the Mother Bin is all about," said Crystal Kopecky, Director of Sales for Walkabout Mother Bins. "As promised on the radio, and published in the paper, the Mother Bin was on display for the first time at a show in Iowa. I am thrilled to say the same will go for Lincoln. We can't wait for people to see the bin with their own eyes."
Where to find Walkabout Mother Bins at the Nebraska Ag Expo
The Mother Bin will be on display in booth number 725 in the Multi Purpose Arena of the Lancaster Event Center in Lincoln, Nebraska. Walkabout Mother Bins are proudly represented in Nebraska, Kansas, and South Dakota by FEI, Inc. and their local reps will be on hand to answer questions about the Bin.
What is a Walkaboout Mother Bin?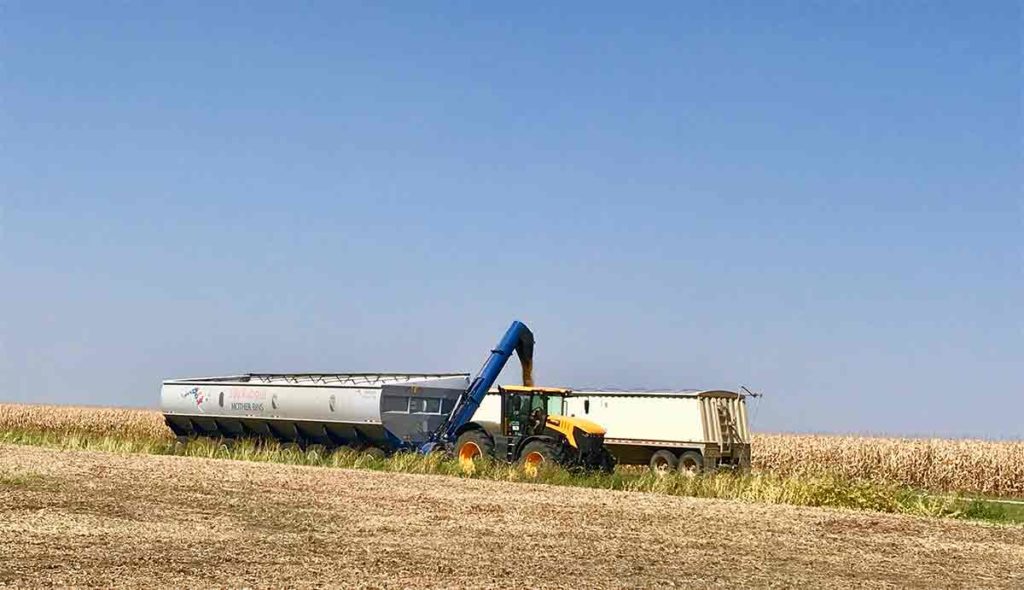 A Walkabout Mother Bin is an essential piece of harvest equipment that offers a large, portable, grain storage solution (4,000-bu capacity) for any size operation. The Mother Bin features a newly designed roll tarp/top to accommodate more grain, a 22″ Elmer's unload auger, split front and rear flow gates for blending grain, self-steering front and force steering rear axles and more. The Mother Bin can load a semi in about two minutes and has an unload rate of up to 900-BU min. In short, a Mother Bin reduces trucks, labor and grain cart cycle times. It allows operators to keep the combine running continuously, eliminating the need to stop and unload.
The Nebraska Ag Expo annually hosts nearly 760 exhibitors spanning 9.2 acres in the Lancaster Event Center. These ag manufacturers and suppliers come from across the country and around the world to display the best ag has to offer, from big iron, precision ag, aerial imaging and livestock production, to inputs, data management and more.
Walkabout Mother Bins is located in Faulkton, South Dakota. Our mission is to provide affordable, quality Mother Bins to the United States farming community. Walkabout Mother Bins is proud of our outstanding customer service and customer satisfaction. All Walkabout Mother Bins are made in the USA.
Contact: Crystal Kopecky, Director of Sales, sales@usakangaroo.com, 605,530,4346